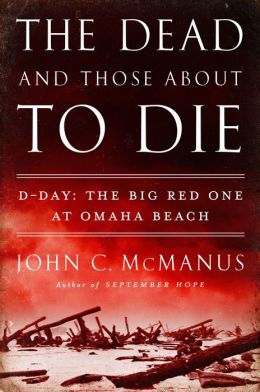 "Magnificent! I could not put this book down. John McManus has expanded our knowledge of D-Day history by a considerable factor. It is a great read and will appeal to both devoted students of World War II as well as those with a more casual interest. Don't miss it!"
—Joseph Balkoski, author of Omaha Beach and Utah Beach
---
"The Dead and Those About to Die is a gripping, first-hand account of the desperate battle for Omaha Beach on D-Day by the legendary 1st Infantry Division, the Big Red One. On the 70th anniversary of that momentous event, John C. McManus's tale of courage under fire is a vivid reminder that freedom isn't free and that when the chips are down stalwart American soldiers will always answer the call of duty."
—Carlo D'Este, author of Patton: A Genius For War and Warlord: A Life of Churchill at War, 1874-1945
About the Book
A white-knuckle account of the 1st Infantry Division's harrowing D-Day assault on the eastern sector of Omaha Beach—acclaimed historian John C. McManus has written a gripping history that will stand as the last word on this titanic battle.
Nicknamed the Big Red One, 1st Division had fought from North Africa to Sicily, earning a reputation as stalwart warriors on the front lines and rabble-rousers in the rear. Yet on D-Day, these jaded combat veterans melded with fresh-faced replacements to accomplish one of the most challenging and deadly missions ever. As the men hit the beach, their equipment destroyed or washed away, soldiers cut down by the dozens, courageous heroes emerged: men such as Sergeant Raymond Strojny, who grabbed a bazooka and engaged in a death duel with a fortified German antitank gun; T/5 Joe Pinder, a former minor-league pitcher who braved enemy fire to save a vital radio; Lieutenant John Spalding, a former sportswriter, and Sergeant Phil Streczyk, a truck driver, who together demolished a German strongpoint overlooking Easy Red, where hundreds of Americans had landed.
Along the way, McManus explores the Gap Assault Team engineers who dealt with the extensive mines and obstacles, suffering nearly a fifty percent casualty rate; highlights officers such as Brigadier General Willard Wyman and Colonel George Taylor, who led the way to victory; and punctures scores of myths surrounding this long-misunderstood battle.
The Dead and Those About to Die draws on a rich array of new or recently unearthed sources, including interviews with veterans. The result is history at its finest, the unforgettable story of the Big Red One's nineteen hours of hell—and their ultimate triumph—on June 6, 1944.
"At first I thought I would draw the reader's attention to the simply magnificent narrative of one of the most famous and gripping events of modern military history, the nineteen hours epic of the First Division's landing, purgatory, and then near-exhausted triumph at Omaha Beach on June 6, 1944. Then I thought I would draw the attention of my professional fellow-historians to the outstanding set of notes and oral histories, so neatly tucked away at the end, superb scholarship but worn so lightly. But finally I had to choose its ending, the chapter called 'Meaning,' on the thoughts, emotions, and later lives of this remarkable group of warriors. I closed this book with the deepest respect."
—Paul Kennedy, New York Times bestselling author of Engineers of Victory and The Rise and Fall of Great Powers.
"With painstaking research, military historian John C. McManus delves behind the broader canvas of Omaha Beach to capture the courage, grit, and sacrifice of the 1st Division's D-Day landing. This is as real as it gets without having been there."
—Walter R. Borneman, national bestselling author of The Admirals, Winner of the Samuel Eliot Morison Award.
"A skilled and highly talented author, John McManus has delivered another first-rate piece of scholarship. The Dead and Those About to Die is a tour de force of historical writing."
—Robert von Maier, Editor-in-Chief of Global War Studies.
"In vivid and chilling detail, this brilliantly organized battle narrative immortalizes the 1st Division's assault on Omaha Beach. Having unearthed eyewitness accounts of courage, carnage, fear and leadership never told before, McManus's masterful work deserves a place alongside those of Cornelius Ryan, Steven Ambrose and Rick Atkinson."
—David L. Roll, author of The Hopkins Touch
"John McManus' brilliant chronicle of the Big Red One's experience on Bloody Omaha captures the grit, pathos, and valor of the battle like no other book that I have read. This is gripping history—beautifully and masterfully told by one of America's premier historians. "
—Patrick K. O'Donnell, national bestselling author of Dog Company
Great review from Kirkus Reviews!
KIRKUS REVIEW
A focused tale of the hellish ascendancy of the U.S. Army's famed 1st Infantry Division on June 6, 1944, underscoring how the Normandy invasion nearly went terribly awry.
With several World War II volumes under his belt (September Hope: The American Side of a Bridge Too Far, 2012, etc.), military historian McManus elicits moving details of courage and hardship from personal as well as historical sources, spotlighting the feats of this heroic division that took the brunt of the first-wave assault on Omaha Beach. Hardened by heavy fighting only months before in Tunisia and Sicily, considered somewhat arrogant and full of themselves, many of the 1st expected to go home. Instead, Gen. Omar Bradley, commander of U.S. ground forces in the coming invasion, discarded "the niceties of justice" and needed to rely on those troops. Trained vigorously in England under Gen. Clarence Huebner to attack and destroy coastal defenses, the men were well-prepared yet hindered by the very technology that was supposed to cause the breakthrough of German defense. The Normandy beaches were wired and rigged with every contrivance of mines, "Belgian gates" and hedgehogs, with gunners perched in pillboxes on the bluffs. The troops, disgorged from landing craft in huge, unmanageable swells, were overladen with gear and unable to move quickly, offering sitting-duck targets for the German gunners, while the beaches became clotted with machinery and armament launched on an unsustainable schedule. McManus does not spare us the slaughter of those first hours: He even quotes one German soldier observing the carnage, murmuring, "Poor swine." Getting the men off the beach became Col. George Taylor's rallying cry (he is credited with the title's quote), while the offshore destroyers helped dismantle the pillboxes to allow the intrepid leaders of the Big Red One to breach German defenses and push inland.
An exciting account from the personable point of view of the soldier.
Disclosure of Material Connection: Some of the links in the page above are "affiliate links." This means if you click on the link and purchase the item, I will receive an affiliate commission. I am disclosing this in accordance with the Federal Trade Commission's
16 CFR, Part 255
: "Guides Concerning the Use of Endorsements and Testimonials in Advertising."