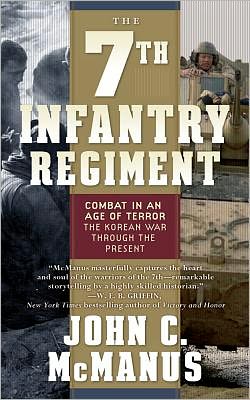 "McManus masterfully captures the heart and soul of the warriors of the 7th—remarkable storytelling by a highly skilled historian."
—W. E. B. Griffin, New York Times bestselling author of Victory and Honor
---
"Superb. Grab this book—and buy a copy for a soldier you know!"
—Ralph Peters, New York Times bestselling author of The War After Armageddon
---
"Terrific! This is military history that people will be reading fifty years from now. It takes the reader into the mystic soul of the U.S. Army."
—Thomas Fleming, New York Times bestselling author of The Secret Trial of Robert E. Lee
About the Book
The 7th Infantry Regiment's motto, "Willing and Able," speaks volumes about its past. The 7th has fought in more battles, in more places, than any other regiment in the U.S. Army. At practically every crucial moment in America's wars, the 7th has been there, shaping the future of the country and, by extension, the world.
Acclaimed combat historian John C. McManus takes readers from the Cold War to the War on Terror, with a complete account of the 7th's anguish and triumphs. Based on nearly a decade of research, from archives to battlefield visits to McManus's personal interviews with 7th Infantry soldiers, this book is a definitive and moving story of Americans in combat.
Disclosure of Material Connection: Some of the links in the page above are "affiliate links." This means if you click on the link and purchase the item, I will receive an affiliate commission. I am disclosing this in accordance with the Federal Trade Commission's
16 CFR, Part 255
: "Guides Concerning the Use of Endorsements and Testimonials in Advertising."